Since the age of 13, Suzanne has enjoyed sharing her songs and cover tunes,  encouraging the audience to sing along, if they feel like it.  "Music is a shared experience, and I truly believe that's why I was gainfully employed for  25 yrs as a performer".

Income in the 70's and 80's for full time restaurant and hotel singers was very good.  You'd sing five to six nights a week,  sometimes for month, or even a year or more in one "residency",  then start another right after that.  Come the mid 90's most of those venues stopped their live entertainment. Coffeehouses and Cafes, however, came back in vogue, so Suzanne, now with a family life and day job, got to continue … still on track. 

"I would have loved to have been a dynamite songwriter in the 90s' when everyone was going that direction and making CD's,  but my passion, my gut, my energy  always kept pulling me back to learning songs that I loved to sing, and sharing those with my audiences. Only in the last eight years or so have I  started  to explore songwriting more seriously.  I've even started some Comedy songs for a One Woman Show I'd like to write someday, but  I will have some covers in that show as well, I"m sure.

To sing to an audience is an honor. They usually give back to me just as much as I try to give to them. Songs are time travel vehicles.  They can transport a person to a place and time in their lives,  and I love being the Conductor and driving that train,  Giving people permission to join in, sing out, or just close their eyes and  let themselves go to that moment in time, is one of the best feelings in the world.   If one of my original songs also resonates with people, all the better, of course!"




  Bring Suzanne to your library!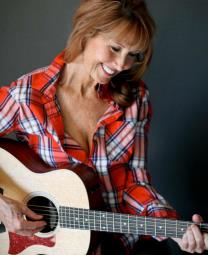 Folk/Country/Easy Listening

"Acoustic/Nostalgia"

Sooz's Music & Time Travel

Sooz wants to show young singers /performers that this ticket they hold in music doesn't have an expiration date.  On April 22,  2013  Suzanne will celebrate her  50th -year anniversary when her music road began. That was a pivotal year; she received her first guitar and, after attending a Kingston Trio Concert in her hometown of  San Diego,  she declared,  "I want to do that.  I want to sing for a living". She did just that and continues to do so,  enjoying the view as each year rolls on… still on track.


Branch Locations

(Google Maps)

~ check out our calendar section often, for updates and info about upcoming shows...