Sunland, California's "Shelby, Tieg & Tara" are a singing-songwriting folk trio.  They've been described as a modern Simon and Garfunkel (if they had sisters). 

The trio formed in 2010 when Tieg Johnson somehow managed to convince his two favorite singers, Shelby Lindley and Tara Louise, to be in a band with him.  Equipped with only their voices and an acoustic guitar, they found they were able to put a unique sound on each others original songs. 

Shelby, Tieg & Tara are avidly performing in the SoCal area with over 110 performances already under their belt.  They are currently recording their 4th cd "Works of Heart" which will be released in 2013.


  Bring this trio to your library!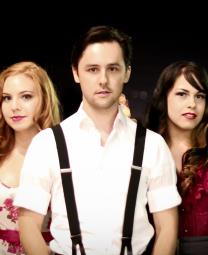 Sheby, Tieg, & Tara

Acoustic Folk Pop/Guitar/Harmonies

Sounds Like Happiness!


Branch Locations

(Google Maps)

~ check out our calendar section often, for updates and info about upcoming shows...