Bring this duo to your library!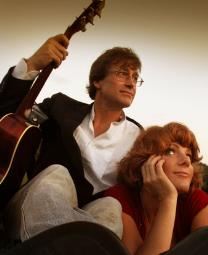 Indie / Acoustic / Soul

Described as Modern-vintage acoustic soul.


Branch Locations

(Google Maps)

""We're a song-oriented harmony duo, with a little spin on the ball," says Sven-Erik Seaholm, who, with wife Brooke Mackintosh, is one half of Seaholm Mackintosh. "I guess you could call it indie acoustic, with psychedelic tendencies."

In addition to being an accomplished singer and songwriter, Sven-Erik Seaholm is also an award-winning independent record producer. After hearing his work, Salt Lake City native Brooke Mackintosh sought him out to record her debut album, "Blue Skies Await.". Drawn together by their shared love of great songs and harmonies, acclaimed duo Seaholm Mackintosh has been making beautiful music on stage and off, ever since. Armed with only acoustic instruments and their exquisitely intertwined voices, Seaholm Mackintosh's undeniable chemistry is matched only by their incredible catalog of original songs and choice covers… All of which add up to a sound that some have called "modern-vintage acoustic soul".

~ check out our calendar section often, for updates and info about upcoming shows...