Mair's repertoire runs the spectrum from classical to folk and contemporary music. Her singing has been compared to Sarah Brightman, and her playing  to Harpo Marx, her performance, a dash of Andre Rieu and her fans range from ages 1 to 101.

Singing harpist Mair (Mair rhymes with "air") is a popular entertainer throughout Southern California. She was the Lobby Lounge harpist at the Four Seasons Resort Aviara in Carlsbad and currently is the harpist for The Cosmopolitan Hotel in Old Town State Park.

Mair has a Bachelor of Arts degree in Music with an emphasis in voice, and is in constant demand as a vocalist. She was a featured vocalist with San Francisco Civic Chorale and was a vocal soloist with the Golden Gate Park Band. Her "Christmas with the Harp" instrumental CD has been in regular rotation on Muzak, XM, JMX, Sirius music services and global radio.  She records on a 1914 Lyon and Healy pedal harp.





  Bring Mair to your library!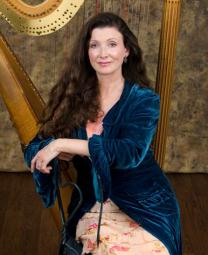 Sings Like An Angel

Classical/Folk/Contemporary

Her singing has been compared to Brightman, & her playing to Harpo Marx, her performance, a dash of Andre Rieu & her fans range from ages 1 to 101.

One of the joys of Mairs concert was the variety of selections chosen; - classical, folk, and contemporary. Mair also has a rare gift of engagement. By engagement, I mean an artist who can draw the listener into the music. At SOS, the invited artists are selected because they are successful in engaging listeners. Mair does this very well with each genre of music she played at Blessed Sacrament.

Julie Hudson, Spreckels Organ Society

I am still giddy from your Singing Strings concert!  The variety of selections, close harmonies, the flute soaring overhead into the ceiling-a truly beautiful experience. Thank you for the hard work and beautiful, moving performance.  It was a strong start to the Accord Series. Your dedication to music is inspiring to me!

Kate Cameron, American Guild of Organists


Branch Locations

(Google Maps)

~ check out our calendar section often, for updates and info about upcoming shows...