Bring KEV to your library!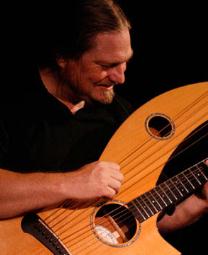 Acoustic Fingerstyle & HarpGuitarist

Performer - Author - Educator

KEV-Kevin Rones guitar inspirer for the Taylor Guitar for Schools program, The founder of the Acoustic Underground Concert Series, the promoter of the Heartstrings Festival, a published and co-author in the Best Selling Chicken Soup for the Soul series and a Children's book Author and Illustrator.

KEV is a San Diego Based Harpguitarist and Fingerstyle Acoustic Guitarist. He is the founder of the San Diego Guitar Society, The School of Guitar Wizardry™, The Acoustic Underground Concert Series, QuickstartGuitar™ method.

His music is a fiery blend of slapping, tapping, picking and plucking that defies any specific genre. He weaves the flavors of Celtic, Flamenco, Blues and Rock into his fingerstyle guitar compositions and ties it together with his own style and sound. KEV is known for his high energy live shows. KEV-Kevin Rones is a San Diego based musician who inspires, educates and motivates his audience to become involved with music.


Branch Locations

(Google Maps)

~ check out our calendar section often, for updates and info about upcoming shows...