Bring Jeffrey Joe to your library!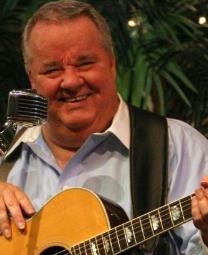 JEFFREY JOE MORIN

Ballads, Blues & Heartbroke Laments

songs of love, romance, and dramatic introspection

Making his way through an adventurous past including bicycle daredeviltry, tugboat skippery, Haight/Ashbury residency, and dangerous Vietnamese Naval advisory, Jeffrey Joe is a modern-day Huck Finn who made music his Jim.

His exemplary guitar and harmonica skills along with his never-ending knowledge of standards have resulted in stage-sharing with some of the finest musicians in San Diego, a city he now calls home for the fifth time. And while he is a comfortable accompanist, he is also a wonderful one-man act, sending speckles of star dust into the universe with every heartfelt song.

"I would rather sing to three people who are listening than sing to a room full of people who aren't, just to make a buck. It's important to me to touch someone.

"The first thing I want to get across is the poetry, the last thing is me, and in between is rhythm and harmony."


Branch Locations

(Google Maps)

~ check out our calendar section often, for updates and info about upcoming shows...