Bring Dale to your library!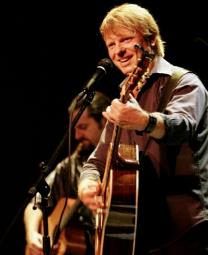 Pop / Singer-Songwriter

Acoustic Rock


Branch Locations

(Google Maps)

"Christopher Dale is infectious and virtuoso. He rocks, he croons, he blows bubbles, he opens a vein and lets it bleed!"

Mike Sager, Esquire Magazine.

Spawning from San Diego's premier singer/songwriter venue Java Joe's with the likes of Jewel and Jason Mraz and described as John Mayer and James Taylor meet Tom Petty at a Barenaked Ladies concert, Christopher Dale mixes his many influences together to form one uniquely catchy artist. Whether he's performing solo or with his back up band, Dale intoxicates listeners with his honesty, heart and sheer energy. Coupled with a fiery stage presence and his trademark banter, each Christopher Dale live performance creates a lifetime memory.

Before launching his solo career under the moniker of Scorch, Dale fronted the San Diego rock band Grays Well, a two-time San Diego Music Award nominee for Best Rock Group. In spite of the band's success, in 1999, he departed in pursuit of greater musical diversity. He would go on to incorporate the many styles of music that had influenced him at such a young age into his first solo album "Pop With A Twist," which was released in March of 2001. "Pop With A Twist" earned Scorch a SDMA nomination for Best Pop Album later that year. He received another nomination in 2002 for Best Acoustic. As a performer at the 2001 Suzuki Rock 'n' Roll Marathon, he was featured by both ESPN and NBC in their broadcasts of the event.

~ check out our calendar section often, for updates and info about upcoming shows...

Leaving the ashes of Scorch behind in 2004, Christopher Dale went on to release "Pick Me Up" & the self-titled "Christopher Dale" (2005), each adding another SDMA nomination to his resume. As a result of consistent critical acclaim and a constant performance schedule, Mr. Dale was approached by a San Diego-based ad agency to sing in radio commercials for such companies as Ikea, Sparklett's, Nissan and Henry's Market Place.